BACK
SDI Fireplace Update Series
Updating your fireplace and surround can completely change the style of a room. The first in our fireplace update series is one of the most dramatic we have completed.
Our clients are most comfortable living in a modern home. So, when they purchased a traditional style home, one of the first steps was to install wide plank, dark hardwood floors on the main and upper levels, paint the handrail and balusters, and install new stairs. Despite these changes, the traditional brown brick fireplace was the first design element visible as soon as you walked into the home.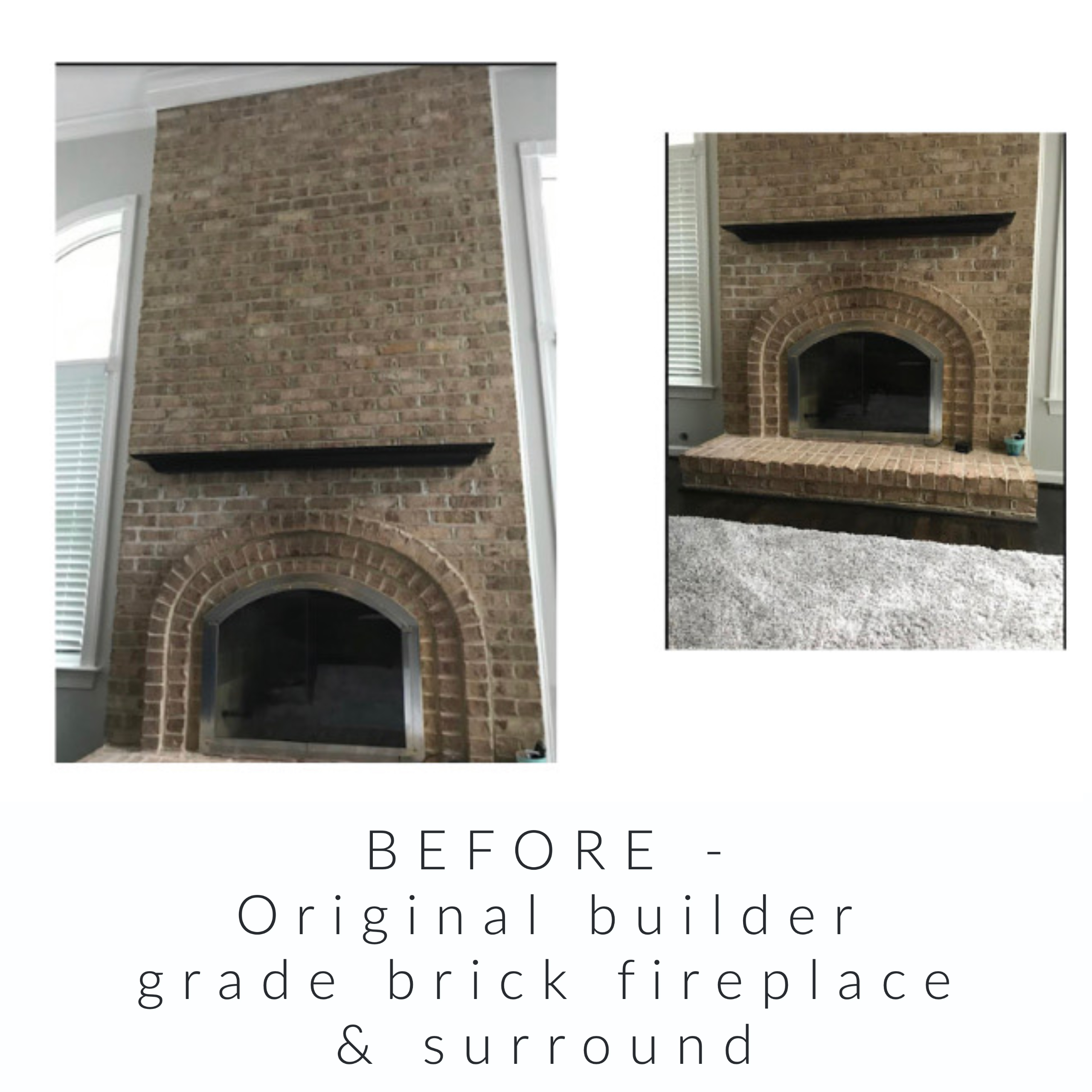 The investment to completely reface a fireplace is significant. We discussed washing the brick with paint, installing a combination of marble and wood, and ultimately using marble from floor to ceiling. We consulted with realtor Becky Green, of The Virginia Realty Group of Remax/Chantilly, to get her input on our design choices. Since the buyer plans to be in the home for 5+ years, she agreed the most expensive update would be money well invested.
To create a cohesive look that updated a traditional home with their modern style, we created a transitional fireplace feature. Over a period of 7 days, we chiseled the curved brick opening to the same plane as the fireplace, encased the fireplace in 2 full slabs of Mont Blanc marble, allowing the compound to dry and set between installations, installed a black matte door, and added a mantel. This mantle was designed to conceal the marble slab seams, create necessary dimension on a very tall wall and provide a place to display temporary decorations throughout the year.
The second challenge was to create unity between the sliding doors and windows, which are all different heights, block sunlight and offer privacy when necessary, and soften the glass and marble with fabric. We fabricated and installed beautifully lined, ripplefold draperies in a sheer white with silver threads and hung on decorative traversing rods.
With a direct view of the family room through the curved staircase from the front door, the style and materials of the new fireplace and draperies make a dramatic impact. The family room pulls you into the home, which is exactly what a designer strives to achieve when integrating architectural elements and decorating. The overall effect is modern elegance. The overall client reaction is complete happiness.